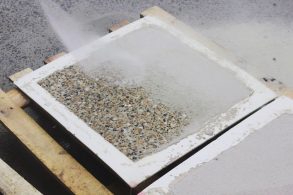 At Metro Mix Concrete we understand the importance of finding that perfect mix for your next project or specification and offer customisable concrete solutions.
Our creative design team will work in with yourself or your designers to combined your selected aggregates, colour oxides and cement choices creating your custom mix design.
Then for a small fee we can have a sample created for you to take home and use to colour match other finishes that may be required or just simply see how it looks in its actual surroundings.
Samples are 450mm x 450mm x 50mm & approximately 25kg.
Turnaround times for samples:
Exposed Aggregate – 3 to 4 days
Polished Concrete – 1 to 2 weeks