Just like conventional concrete, stamped concrete can easily guarantee you with years of service. All one needs to be keen on is how the concrete is mixed in the first place. It is of course, important to ensure that the ready mix concrete the contractor intends to use is mixed according to the right or rather recommended proportions. But over and beyond that lies other important considerations, most of which should be taken into account once the stamped concrete has already been installed. Read on to learn more.
Color hardeners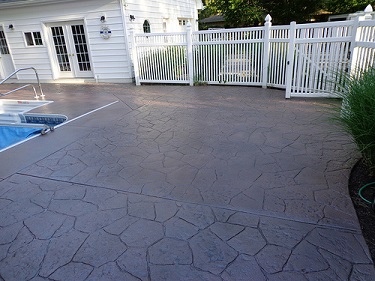 You probably don't know this but stamped concrete becomes more durable than standard concrete once one adds color hardener to it. The hardener does more than just add color to the concrete surface. It improves the structural integrity of the surface and makes it more resistant to water penetration and abrasion.
Protective sealers
Protective sealers are as important as color hardeners as far as maintaining the stamped concrete is concerned. The sealers are mostly designed to block the penetration of deicing chemicals, dirt, grease stains, water and any other substance that can easily take a toll on the concrete's quality. A good protective sealer should also make it easy for one to clean the surface. Be keen though when choosing sealers and settle for ones that are specifically made for stamped concrete surfaces. With the right sealer, you can also be sure of a stamped concrete surface that can enhance color and prevent fading from UV overexposure.
Note that the surface you intend to apply the sealer to must be clean so as to ensure good adhesion. You should also be keen to allow the stamped concrete to cure on time. At least four weeks after placement is often recommended depending on weather conditions. Make sure to that the surface is free from moisture on flat and in low spots of the stamp pattern or any other place where water can easily accumulate.
Regular maintenance
This is all about how often you clean and sweep your stamped concrete surface. A good sealer may inhibit stains but such a perk may not be guaranteed where one allows dirt to build up on the surface. With that in mind, use a pressure washer to clean exterior surfaces with stamped concrete. Then use enough water with a mind detergent to clean interior surfaces with stamped concrete. Wet mopping and vacuuming can also be considered for cleaning interior surfaces with stamped concrete.
Winter maintenance
Most stamped concrete surfaces get damaged during winter because of deicing salts. The good news however is the fact that deicing salts have no effect whatsoever on concrete sealers. That is why all surfaces with stamped with concrete should have sealers. The sealers will reduce the effect of deicing salts used during winter on different concrete surfaces. It should however be noted that sealers used on decorative concrete often fail in small areas that receive drip off from heavy objects on the surface such as parked cars. That is why one should be specific when choosing sealers. Simply choose one that is designed for stamped concrete floors.